How to Get From Honolulu Airport to Waikiki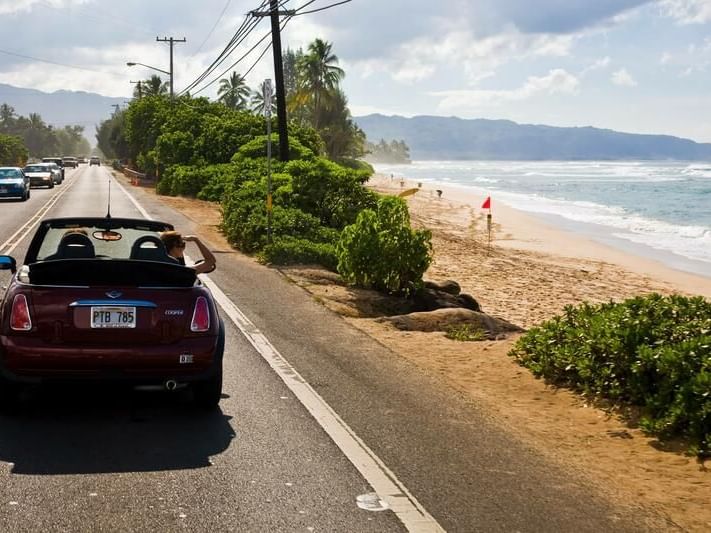 You've booked your vacation to Waikiki—now it's time to plan your journey from Daniel K. Inouye International Airport to your accommodation. From buses and shuttles to car rentals, rideshares, and taxis, there are safe and hassle-free options for all budgets and group sizes. Waikiki is located less than 10 miles from the airport so, however you choose to arrive, you'll be saying "aloha" to the beach in no time.
Shuttle Services*
Whether traveling alone or in a group, shuttles are an excellent option to get from Honolulu Airport to Waikiki. Several reputable companies offer door-to-door services between the airport terminals and your hotel. With set prices and advanced online bookings, you'll have peace of mind knowing that your ride will be waiting at the specified time.
Clik Shuttle: One-way shared shuttle transfers for $12 per passenger, including two pieces of luggage and one carry-on. A minimum of two passengers is required per booking. Roundtrip private transfers are available from $110.
Roberts Hawaii: One-way shared transfers starting at $21 per person, with two pieces of luggage and one carry-on included. Rates for one-way private transfers start from $149. Surcharges are applicable for surfboards and bulky items.
SpeediShuttle: One-way shared service for $16 per person, with two bags included. One-way private transfer rates start at $112. Surcharges apply for surfboards and larger items.
*Information and price are subject to change
Rideshares to Waikiki
Anyone wanting to take advantage of popular ride-sharing platforms can get to and from Honolulu International Airport via Uber and Lyft. Ride-sharing is an economical alternative when traveling in a group and splitting the costs. Rates depend on variables such as demand and traffic, meaning they're subject to price surges during rush hour.
Uber: Standard fares from $36, as of spring 2021
Lyft: Standard fares from $35-$42, as of spring 2021
There are three designated pick-up and drop-off zones for rideshare services located on the airport's second floor:
Terminal 1, outside Lobby 2
Terminal 2, outside Lobby 5
Terminal 3, outside Lobby 8
Public Transport
Budget travelers happy to navigate Honolulu's public transport network can board a local bus for the hour-long ride into Waikiki. Costing only $2.75 per person for a one-way ticket, this is the cheapest option. Children under five even travel for free when accompanied by a fare-paying passenger and don't occupy a seat.
Services arrive and depart from the airport terminals approximately every 30 minutes.
Find the bus stops located along the airport's second-level roadway using this interactive airport map.
Taxi Services
Vacationers landing in Honolulu can opt to ride a traditional taxi to Waikiki, too. Walk out to the center median after leaving the baggage claim area to find the official taxi stops. Here, dispatchers wearing yellow shirts with the words "Taxi Dispatcher" will guide you toward a car.
AMPCO Express manages all taxi services at the airport.
Fares range between $30 and $50, depending on the time of day and whether you have pre-booked or have just decided to hop into a cab.
Call ahead to local firms that offer flat-fee airport fares such as Charley's Taxi and Star Taxi Hawaii.
Car Rentals
If you plan to explore areas of Oahu outside of Waikiki, then consider renting a car at Honolulu International Airport. You'll have the freedom to set your own pace and not lose time waiting for buses, shuttles, or taxis. Once you've collected your car and loaded your bags you'll be able to cruise into Waikiki in around 20 minutes.
With many affordable airport transfer options, you can rest assured that your Waikiki vacation will start off on the right foot. If you need somewhere to stay that's within easy reach of the airport and close to Waikiki's major tourist attractions, then look no further than the Waikiki Resort Hotel.