Best Ube Treats to Try in Hawaii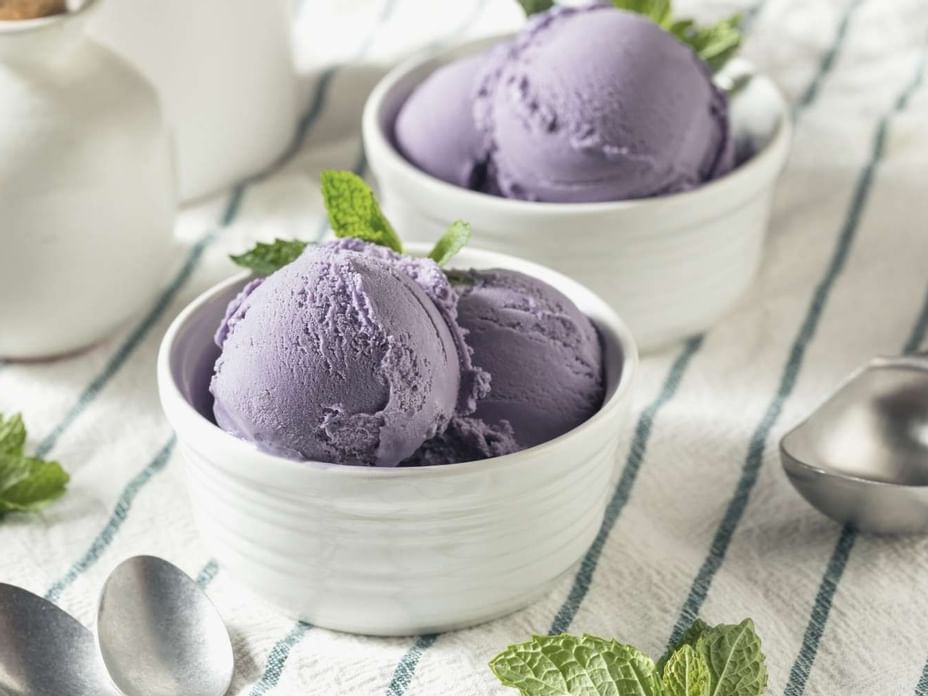 Whether you're visiting Hawaii for the first time or you're a frequent visitor, you may or may not know that ube is a beloved local ingredient. Ube is a purple root vegetable that's earthy and sweet–kind of like yam or sweet potato. It's native to the Phillippines but has long had a presence in the Hawaiian food scene. And thanks to its versatility, you can find it in a seemingly endless amount of sweet and savory dishes. Read on to discover our top nine must-eat ube treats in Hawaii.
1. Ube Pasta
Adela's Country Eatery is famous for its ube pasta. Best of all, it's just a 20-minute drive from Honolulu–perfect for a quick lunch or dinner excursion. The bright purple noodles are sure to delight kids and adults alike! This restaurant also makes other kinds of pasta from Hawaiian ingredients, like taro, breadfruit, and moringa.
2. Ube Soft Serve Ice Cream
Ube is a perfect addition to ice cream thanks to its creamy, slightly sweet flavor. Plus, the bright purple color is super Instagrammable! There are a couple of places to get ube soft-serve ice cream in Hawaii. Ube + Vanilla, Thrills Soft Serve, and Ubae Hawaii are a few of our favorites. You can get a cone of ube soft serve by itself, or get it swirled with vanilla or garnished with candy toppings.
3. Ube Pancakes
Want to start your day with a little ube? There are quite a few eateries right on Oahu and near Waikiki Beach that add ube to their pancakes. Guieb Cafe, conveniently located in Kapalama Shopping Plaza, has delicious, indulgent Ube Mascarpone pancakes.
More of a waffle person? Check out the ube waffles at Yogurstory, an Asian fusion restaurant on the outskirts of Waikiki Beach. You can even add a scoop of ube ice cream to your ube waffle to create the ultimate ube treat!
4. Ube Mochi
Mochi Aulelei is a traveling dessert company. You can sometimes find them at the KCC Farmers' Market at the foot of Diamond Head. Their deep-fried mochi is definitely unique and besides ube, it comes in exquisite flavors like coconut and poi.
5. Ube Milk Tea
Teapresso is one of our favorite spots for refreshing iced teas and coffees–and they actually offer an ube latte milk tea. Make it your own with fun additions like boba, foam, jelly, and more.
6. Ube Milkshakes
With four locations on Oahu, including one conveniently located in Ala Moana Center, Island Vintage Coffee offers a thick, creamy ube milkshake. Not in a dessert mood? Head to their pastry case for a bagel smeared with ube cream cheese.
7. Ube Scones
Looking for a quick breakfast or afternoon pick-me-up? Chocolate + Vanilla Bakery is located in Kaimuki, just a short drive from Waikiki Resort Hotel. We like to stop by before or after hiking Diamond Head. This little hole-in-the-wall is well known its ube scones, but customers also love the bakery's ube banana bread, ube ice cream, and ube creme brulee.
8. Ube Cupcakes
Cupcakes are the perfect single-serve dessert, so when in Hawaii you should definitely try an ube version! Hokulani Bakeshop offers an ube cupcake made with a chunky purple batter and topped with haupia buttercream frosting.
9. Ube Cheesecake
Ubae specializes in all things ube–they've actually been awarded Hawaii's Best Ube for several years in a row. Though they have everything from cakes to cookies, they're famous for their decadent cheesecake, available in single servings or 9" rounds.