4 Must-Visit Drive-In Restaurants in Hawaii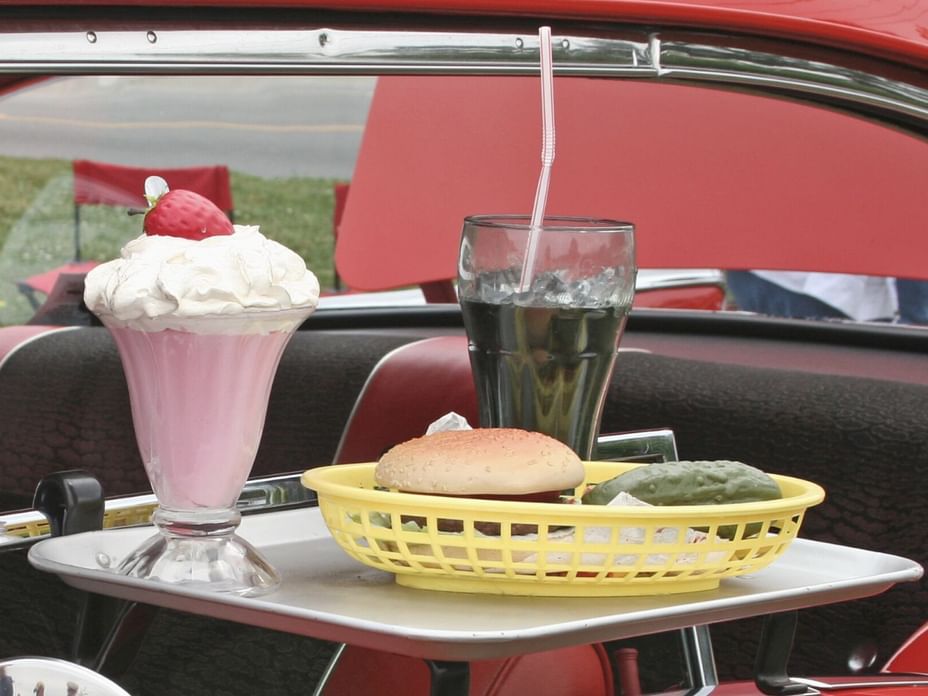 America's first drive-in restaurant opened in 1921 in Dallas, Texas. Today, old-fashioned drive-in restaurants are sprinkled all across America—including in the Aloha State! In fact, some of the best Hawaii drive-in restaurants can be found on Oahu, letting you enjoy the finest local cuisine with a touch of old-school nostalgia.
Address: 94-209 Pupukahi St., Waipahu, HI 96797 (a short 30-minute drive west from the centrally located Waikiki Resort Hotel)
Why it's a must-visit restaurant: The historic Honolulu magazine conducts the annual Hale 'Aina Awards—the state's most coveted restaurant award designation—calls this drive-in restaurant a "plate lunch icon" and recently raved about how "one of the oldest restaurants in leeward O'ahu" has a new "generation of owners who have added their own Korean influence to the menu."
What to get on this Hawaiian drive-in menu: The magazine's critics say Leeward Drive Inn is best known for its fried saimin, but there are many other must-try dishes. Don't miss the Ultimate Mix Plate, piled high with Korean kalbi (spareribs) and other juicy cuts of meat. Or, for a taste of Native Hawaiian cuisine, get a lau lau or kalua pig plate lunch.
Address: 3308 Kanaina Ave., Honolulu, HI 96815 (a short 4-minute car drive or 5-minute Biki bike ride away from the Waikiki Resort Hotel)
Why it's a must-visit restaurant: You'll see this local favorite featured in popular TV shows like Hawaii 5-0 and Magnum PI, and it was rated as the area's best diner by the food critics at the Honolulu Star-Advertiser.
What to get on this Hawaiian drive-in menu: One of the drive-in's bestsellers is its loco moco, which features two juicy hamburger patties on a bed of rice and smothered in eggs and house-made special gravy. For something a bit lighter, try the fresh-caught mahi mahi sandwich, and don't forget to ask them what their daily special is for the day.
Address: This food truck is typically located on Oahu's famous north shore, but during the lunch hour on the weekends, it sets up as a drive-in style food truck in the parking lot of Radford High School (4361 Salt Lake Blvd, Honolulu, HI 96818)
Why it's a must-visit restaurant: On the Food Network's TV show Diners, Drive-Ins and Dives, celebrity chef Guy Fieri named Mike's Huli Huli Chicken as one of Hawaii's best restaurants
What to get on this Hawaiian drive-in menu: You simply can't go wrong with their namesake huli huli chicken prepared Hawaiian-style over a hot mesquite fire for nearly an hour after being well-marinated in housemade seasonings. Fieri raved that this drive-in meal is "the crispiest chicken that anybody will ever try that's not been fried."
Address: 3145 Waialae Ave., Honolulu, HI 96816
Why it's a must-visit restaurant: The food critics at HI Now declared this drive-in's options as "amazing Hawaii comfort food," while Honolulu magazine named it one of the top five restaurants to "satisfy your craving for an old-school burger on Oahu"
What to get on this Hawaiian drive-in menu: This drive-in's burger specials are unbeatable, but it's its extensive seafood menu—featuring a rotating array of fresh-caught fish, like ahi and mahi mahi—that sets it apart. It's also popular for its breakfast options, such as Hawaiian sweet bread French toast.

All four of Oahu's best Hawaiian drive-in restaurants are moments away from the conveniently located Waikiki Resort Hotel, nestled right amidst the action of the Waikiki Strip. And while Hawaii drive-in movies aren't readily available in the Aloha State, our hotel is just steps from the seasonal Sunset on the Beach (a summer event where outdoor movies are played on a giant screen erected on Waikiki Beach). Book your stay at the Waikiki Resort Hotel online or call us at 1-800-367-5116 to see why our location, friendly staff, convenience, and amenities give us top ratings among our guests.