7 of the Best Lilikoi Treats to Try on Your Trip to Hawaii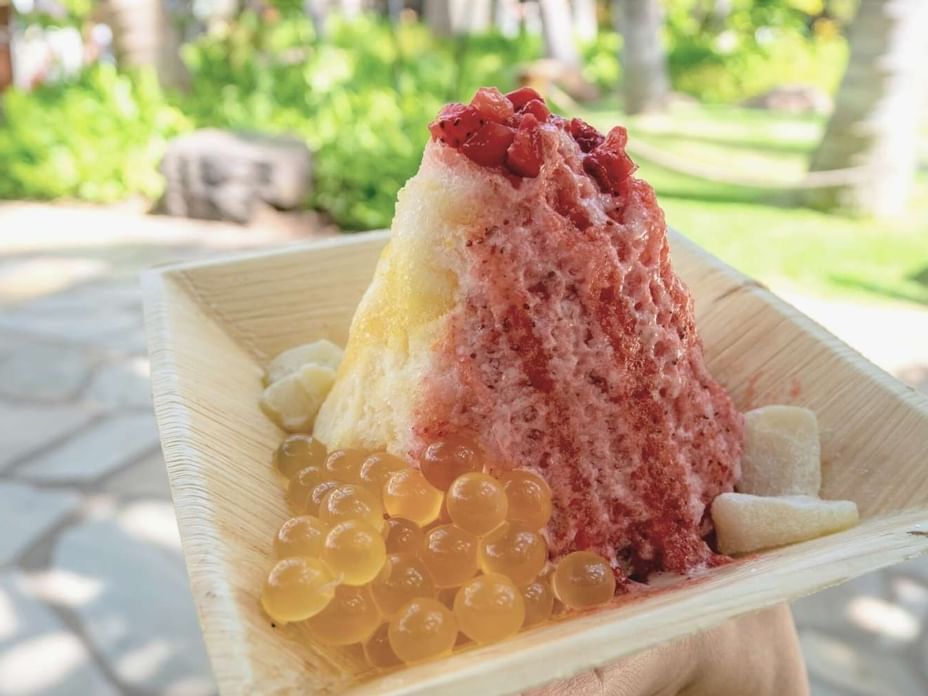 Hawaii's culinary scene is as important to island culture as its ancient history, beaches, and luau celebrations. Here pig roasts, poke bowls, poi, and shave ice often take center stage on the menu. But there's a somewhat lesser-known island staple, which is extremely versatile and a delight for the sweet-toothed: lilikoi. 
Lilikoi is a tropical yellow passion fruit that grows abundantly on the islands. It originates from South America and was introduced to Hawaii by seafarers in the 1920s. The local name is a reference to a district in East Maui where it was first planted.
What Does Lilikoi Taste Like?
Inside a lilikoi is a juicy flesh filled with dozens of dark seeds, which are edible and have a crunchy texture. It has a unique tangy-sweet aroma and can range from tart to sweet tasting. The peak season for harvesting–and eating–the fruit is roughly from June to January.
How Do You Eat Lilikoi?
The basic way to eat a lilikoi is to cut the fruit in half, spoon out the seeds, and dig into the pulp. Chefs and bakers have also invented ways to infuse both sweet and savory dishes to create mouth-wateringly tasty treats. Here we've got seven of Hawaii's finest lilikoi treats.
1. Lilikoi Butter Mochi
Butter mochi is a typical Hawaiian snack made using butter, coconut milk, and mochiko (glutinous rice) flour.

Adding lilikoi butter gives a tangy kick to this tender, chewy, and rich dessert.

Where to try on Oahu: 

Kahuku Farms

 and 

Waiahole Poi Factory

. 
2. Lilikoi Ice Cream Sandwich
Uncle's Ice Cream Sandwiches

 make a delectable combination of tangy lilikoi-flavored ice cream squeezed between two old-fashioned sugar cookies.

Ideal as a quick snack or to serve as desserts and at parties.

Where to try on Oahu: Available throughout the island at cafés, gas stations, grocery stores, and supermarkets.
3. Lilikoi Kombucha
Kombucha is a fermented black or green tea drink consumed for its supposed health purposes. 

Infusing kombucha with lilikoi creates a drink that's a rich source of antioxidants, such as vitamin A and C.

Where to try on Oahu: 

Kahumana Organic Farms

.
4. POG Juice
This refreshing, tropical fruit juice is a blend of passion fruit (lilikoi), orange, and guava, hence the acronym POG.

It was created at the Maui-based Haleakala Dairy in 1971, and the collectible bottle tops inspired a resurgence of the milk caps game in the 1990s. 

Where to try on Oahu: Available at many cafés, convenience stores, and supermarkets.
5. Lilikoi Malasadas
Malasadas, aka Portuguese fried dough balls, are a classic Hawaiian confectionery snack brought to the islands in 1878.

The lilikoi malasada includes a sweet and tangy lilikoi curd stuffing.

Where to try on Oahu: 

Leonard's Bakery

 and 

Liliha Bakery

.
6. Lilikoi Pancakes
A stack of fluffy pancakes is best served when smothered in a creamy syrup.

In Hawaii, lilikoi syrup is the tropical alternative to maple syrup.

Where to try on Oahu: 

Ilima Cafe

, at the Waikiki Resort Hotel.
7. Lilikoi Shaved Ice
Shave ice is as quintessential to Hawaii as surfing and lei wreaths. This light and refreshing snack is perfect after a day in the sunshine. 

When in season, lilikoi is a popular topping at shave ice shops across the islands.

Where to try on Oahu: 

Island Vintage Shave Ice

.
Whether you are planning a Lilikoi menu for a picnic at the beach or simply want to satisfy your craving for tropical flavors, these delicious treats will give you a true taste of Hawaii.