Oahu Traveler Tips: Vacationing in Hawaii For People with Disabilities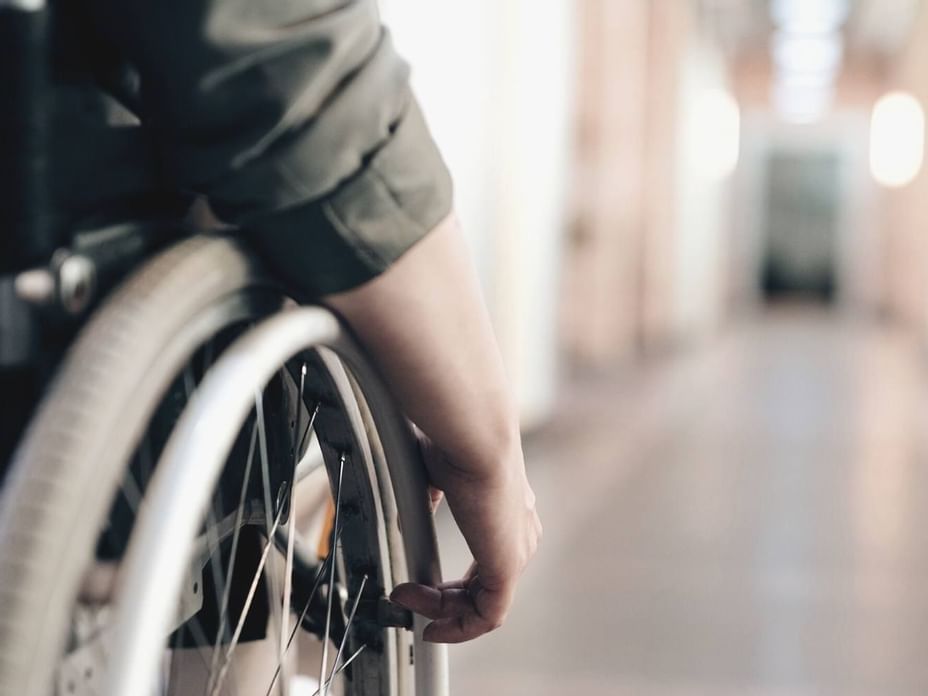 The Hawaiian word aloha carries many meanings, including a deeper cultural definition that embraces the concepts of mercy, compassion and love for all. And while some of Oahu's rugged terrain and sunny beaches may be difficult to access for individuals with disabilities, the Aloha State welcomes with aloha people of all abilities and levels of mobility to explore and relax.
If you or someone you love has a disability, these insider kamaʻāina (local) tips — from airport arrival strategies to the best wheelchair-friendly beaches near Honolulu — offer a world of accessible Hawaiian vacation ideas.
Visiting Hawaii with a Disability: Arrival at Honolulu International Airport
Whether Oahu is your final destination, or you're on a layover on your way to a neighbor island, Honolulu International Airport provides world-class accessibility options:
Getting Around the Terminal: Request porter service from Skycap through your airline, and someone will meet you at your gate (wheelchairs are available if needed) and help you disembark and get to baggage claim.
Getting Between Terminals: Most domestic and international flights arrive at Terminal 2, but you may also need to get to Terminal 1 or 3. If so, take the intra-airport shuttle which comes equipped with accessible ramps or lifts.
Getting to Waikiki or Other Honolulu Destinations: TheBus takes you directly to Waikiki and is wheelchair-friendly with ramps and lifts.
Accessing Mobility Rentals: If you need power chairs, mobility scooters, or wheelchairs, rent one from tourist-focused service providers like Hawaiian Islands Medical, Fresh Air Oahu, and U-Go. The latter also offers medical rentals, including oxygen tanks.
Wheelchair-Friendly Activities in Hawaii: The Best Accessible Beaches, Tours, and Activities in Oahu
Need a relaxing day at the beach? Want to catch a Waikiki sunset? Craving delicious Native Hawaiian food at an authentic lūʻau? The following options invite tourists with disabilities to experience all of Oahu's sights and sounds.
1. Accessible Beaches in Oahu
You can find several beaches that offer gentle terrain and sidewalks for those with walkers, crutches, etc. They are also accessible if you're renting an all-terrain wheelchair (check your wheelchair rental provider about its all-terrain capabilities). Top beaches for tourists with a disability include:
Sans Souci Beach (0.7 miles from the Waikiki Resort Hotel)
Fort DeRussy Beach (0.9 miles from the hotel)
Ala Moana Beach Park (1.7 miles from the hotel)
If you're renting a car, popular accessible beaches throughout Oahu include Kailua Beach Park, Hanauma Bay Nature Preserve, Pokai Beach Park, and Kualoa Regional Park.
2. Guided Tours and Excursions
Tour operators offer various guided packages that take you to some of Oahu's most stunning views and experiences. Operators that offer excursions with built-in accessibility options include:
Most sunset cruises and sailing providers, such as Maita'i Catamaran's sunset sailing tours that depart right off of Waikiki Beach
Polynesia Cultural Center's tours, events, and luaus (the center also offers on-site wheelchair and scooter rentals)
Most bus tours, including Oahu Grand Circle Tour and Star of Honolulu
3. Cultural Sights and Sounds
Oahu is steeped in pre- and post-colonial Hawaiian history, and most historical sights and cultural areas are fully accessible with ramps, elevators, and sidewalks. Top options include:
'Iolani Palace and 'Iolani Barracks (keep in mind that motorized mobility devices are allowed outside, but staff provide standard wheelchairs for inside the palace)
USS Arizona Memorial (fully accessible, but the memorial does not provide any on-site wheelchairs)
Pearl Harbor (provides exceptional access, including fully accessible drinking fountains, restrooms, movie theater, and even reserved parking)
The Best Waikiki Hotel for Visitors with Disabilities
Waikiki Resort Hotel is ready to welcome you in the truest spirit of aloha. All of our concierge and guest amenities are wheelchair accessible, including our parking and our on-site restaurant. We also offer in-room accessibility options, such as roll-in showers, and accessible bathrooms. Best of all, we're directly across from world-famous Waikiki Beach, giving all of our guests unparalleled, easy access to Hawaii's sun-dappled waters. Book today online or call us at 1-800-367-5116 if you have any specific accessibility questions.