Kahala Neighborhood Guide: What to Do in Oahu's Most Prestigious Neighborhood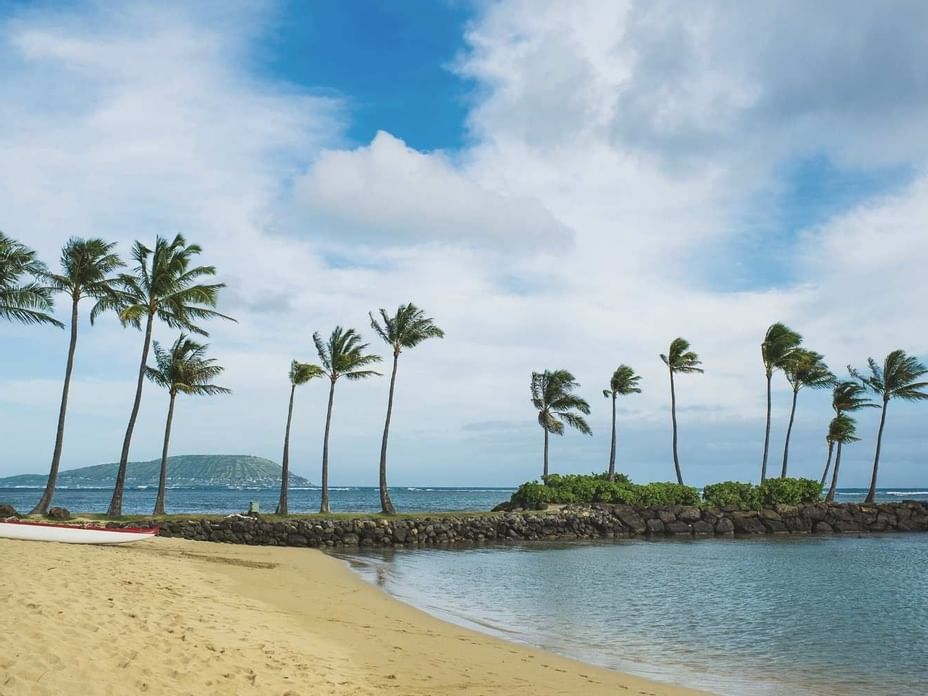 The Kahala neighborhood is located along the south shore of Oahu, just minutes from Waikiki and the iconic Diamond Head. Here you'll find upscale restaurants, luxury homes—the average house sells for upwards of $10 million—and secluded white-sand beaches. It's no wonder this area is often referred to as the "Beverly Hills" of Oahu! If you want to channel your own glitzy episode of the Real Housewives of Kahala on your next Hawaii vacation, these are the can't-miss things to do in Kahala.
Getting to Kahala
It takes only 10 minutes to leave the hustle-and-bustle of the Waikiki strip and explore the sights and sounds of the upscale Kahala neighborhood:
From the centrally located Waikiki Resort Hotel, head east towards Kapahulu Avenue (go towards Diamond Head and the Honolulu Zoo).
Turn left on Kapahulu Avenue.
Turn right onto Herbert Street, and stay right onto Kilauea Avenue.
Turn right onto Onaha Street.
Unlike the bustling noise and soaring skyscrapers of Waikiki, you'll find the Kahala neighborhood filled with serene beaches and sprawling mansions. But that's just the start.
What to Do in Kahala
From world-class dining to swimming with dolphins, you'll never run out of things to do in Kahala. The following activities and ideas will give you a taste of all that Kahala has to offer.
1. Relax on a Secluded Beach
Tap 4999 Kahala Avenue into your GPS and you'll find yourself at world-famous Kahala Beach, renowned for its ultra-soft sand and tranquil waters. Unlike Waikiki Beach, it's rarely crowded. But if even that isn't secluded enough for you, try these "secret" beaches in Kahala:
Mother's Beach: Head further down Kahala Avenue past the "main" beach and go to the end of Hunakai Street, where you'll find an ultra-secluded stretch of sand and light-blue water.
Kaalawai Beach: If you want to go snorkeling, diving, or surfing, this beach—tucked away in a residential area—beckons advanced swimmers.
2. Swim with Dolphins
Hawaii is home to three types of dolphins, but they're elusive and often only seen on a dolphin- and whale-watching tour. And as of 2021, it's now illegal to swim up close to this endangered species.
The Kahala Hotel & Resort (5000 Kahala Avenue) offers one of the only options in the Aloha State to truly swim with dolphins thanks to its Dolphin Quest program:
What it costs: Prices start at $245/person
What you get: Feed, play, and swim with Atlantic Bottlenose dolphins in the resort's 26,000-square-foot natural lagoon
Important notes: Reservations are required in advance
3. Shop 'Til You Drop
Kahala Mall (4211 Waialae Avenue) has more than a hundred charming restaurants and bustling shops, such as 33 Butterflies (trendy knit clothing) and Magnolia (perfect for trinkets, gifts, and home decor). Whether you're looking for fabulous beachwear or handmade boutique jewelry, there's a little bit of something for everyone.
4. Enjoy Ono (Delicious) Food
The dining scene in Kahala reflects the upscale neighborhood you're exploring—and your tastebuds will say mahalo (thank you) to you:
Whatever adventures you get up to in Kahala, return to your home-away-from-home at the centrally located Waikiki Resort Hotel. It's the perfect location for seeing all of Oahu has to offer, and just steps from Waikiki Beach. Book your stay at the Waikiki Resort Hotel online or call us at 1-800-367-5116 to see why our location, friendly staff, convenience, and amenities give us top ratings among our guests.